Bleed For This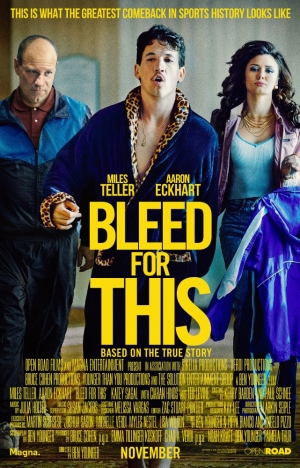 Vinny "The Pazmanian Devil" Pazienza (Miles Teller), a local Providence boxer, shoots to stardom after winning two world title fights. After a near-fatal car accident leaves him with a broken neck, he is told he may never walk again. Against all odds and doctor's orders, renowned trainer Kevin Rooney (Aaron Eckhart) agrees to help Vinny return to the ring just a year after the accident for what could be the last fight of his life. Based on a true story.
Cast:
Miles Teller, Aaron Eckhart, Katey Sagal, Ted Levine
Screenplay:
Pippa Bianco, Angelo Pizzo, Ben Younger
| Excellent | Very Good | Good | Fair | Poor |
| --- | --- | --- | --- | --- |
| 17.1% | 40.9% | 34.3% | 5.7% | 2.9% |
"Surprising casting; I didn't recognize Aaron Eckhart until half way through the film. He was wonderful as Kevin, his washed up trainer. I thought Miles Teller was really believable and physically so different from WHIPLASH but with similar focus and determination. Interesting story. Ciaran Hinds too was extraordinary as the father. Teller looked like Jesus with the hallo crown of thorns. Good imagery for his resurrection. Opening was powerful. Christ and elephants."
"I could not recommend this to many of my friends. It was a good film and I got involved in it. It was painful to watch. I don't remember watching a film and closing my eyes through most of the end matches."
"OK, I'll state the obvious – RAGING BULL needn't worry, it's till the greatest boxing movie – and character study - of all time. But having said that BLEED FOR THIS was determined and well acted and does tell a remarkable story about an equally unsophistocated, pig-headed fighter. Like DeNiro he fights inside and outside the ring and his own demons."
"I too hate boxing films but this was a story of family relationships, courage and determination. It was a wonderful support system for Vinny. Given his situation he felt no choice, this was all he knew and loved and found important."
"This young man was very brave but also takes unnecessary risks. Since I don't see the point or need for boxing, it's difficult to get too sympathetic. If he focused that dedication to something worthwhile, he would be a hero, but, to me, he's just a schmuck! The film was choppy and too episodic and the relationships sketchy except for the father and son. I could have skipped it."
"I hate fight movies but this was very well done on a topic I distain."
"Terrific boxing sequences, well staged, nicely edited. Matched with a fair if often seen story of a driven boxer in humble beginnings striving to achieve. Boxing fans, sports fans will love it."
"This was a great story with a damn good cast except for Miles Teller. For my money, he was the only player who defied credibility. Aaron Eckhart and Ciarran Hinds by contest were spot on."
"The fight scenes were hard to watch."
"Good script, especially since we all know exactly where the story is going so it keeps your interest anyway."
"A good film of its type, but not my type of film."
"An improbable story that could have been corny or predictable. But it was engrossing, dramatic and exciting.
But was it inspiring? There is a fine line between grit, determination and stupidity and selfishness. Who knows if this was worth it for Vinny or his family? Well done film with great acting and great music."
"I hate boxing. I don't know why people watch people punch each other in the ring or on screen."
"Couldn't believe that was Miles Teller. It's a remarkable performance by any measure. Teller – like Pazienda – has moved up in weight class, and yes I'll say it – his performance is a knockout."
"My son would love this but not for me!"
"Not exactly a role model for the disabled, a completely self-destructive move to go back to boxing "because it's easy not to."
"The acting and movie was fair, but Aaron Eckhart was fantastic."
"'Hey Doc, lefty loosey, righty tighty.' Hard to imagine anyone saying that under that much pain."
If you'd like to know more about the film...