CALL ME BY YOUR NAME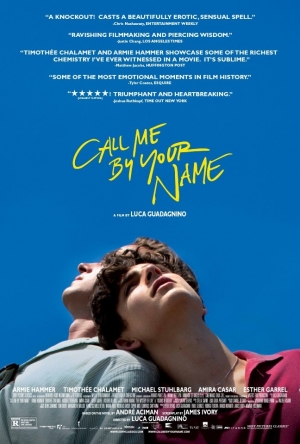 A sensual and transcendent tale of first love, based on the acclaimed novel by André Aciman. It's the summer of 1983 in the north of Italy, and Elio Perlman (Timothée Chalamet), a precocious 17- year-old American-Italian boy, spends his days in his family's 17th century villa transcribing and playing classical music, reading, and flirting with his friend Marzia (Esther Garrel). Elio enjoys a close relationship with his father (Michael Stuhlbarg), an eminent professor specializing in Greco-Roman culture, and his mother Annella (Amira Casar), a translator, who favor him with the fruits of high culture in a setting that overflows with natural delights. While Elio's sophistication and intellectual gifts suggest he is already a fully-fledged adult, there is much that yet remains innocent and unformed about him, particularly about matters of the heart. One day, Oliver (Armie Hammer), a charming American scholar working on his doctorate, arrives as the annual summer intern tasked with helping Elio's father. Amid the sun-drenched splendor of the setting, Elio and Oliver discover the heady beauty of awakening desire over the course of a summer that will alter their lives forever.
Cast:
Armie Hammer, Timothée Chalamet and Michael Stuhlbarg
| Excellent | Very Good | Good | Fair | Poor |
| --- | --- | --- | --- | --- |
| 20.0% | 30.0% | 20.0% | 20.0% | 10.0% |
"Unreadable credits! Sensitive film of coming-out for both father and son. Timothee Chalamet looks so young and innocent which may make viewers shudder but he is clearly older in many ways than most boys of 17. The measured way these two young men came together is so touching and real. Good that is takes place in the Italian countryside in a garden which supports this relationship. Reminds me a little of LAST TANGO, slow pace works for me. Mussolini is still hanging on people's homes. Father's speech was poignant."
"A beautiful coming-of-age story with too many endings! I loved it! But it needed something to tighten up the story."
Way too long!" Predictable. Beautifully filmed."
"Soft cooked eggs, everyone smoking, men jerking off into peaches. Not my kind of film."
"While I appreciate all the superb elements of classic filmmaking on display here – story, direction, great acting, etc., it felt self-indulgent. Or at least to a general audience, and to a more specific audience it would be preaching to the choir."
Beautifully filmed and – from that final speech – great dialogue, all wrapped with wonderful sensitivity and tolerance."
"Superb! One of the most intelligent, perceptive and humanly wise film I've seen at MEA, especially in matters - to quote the father – 'of heart and body.' The father's talk with his son at the end was magnificent. We should all be as lucky as Oliver and Elio!" Jeanne K
"Gorgeous! Magnificent scenery, erotic coming of age. Elio reminded me of a Caravaggio Painting. Oliver was all American, elegant and seduced by Elio. It was set in 1983 but could work today? Lots of sensual fruit. The length implies real time until both acted upon strong/real emotions and sexual attraction."
High class soft porn for a certain population."
Got it coming of age too long, too repetitive. Glad they each found love but it was too long in telling."
If you'd like to know more about the film...