Coming Through The Rye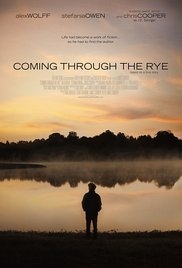 Coming Through the Rye, set in 1969, is a touching coming of age story of sensitive, 16 yr. old Jamie Schwartz, who is not the most popular kid at his all boys' boarding school. Disconnected from students and teachers, he believes he is destined to play Holden Caulfield, the main character of The Catcher in the Rye and has adapted the book as a play. After a series of increasingly hostile altercations with the boys at school Jamie runs away to search for J.D. Salinger. On his way he picks up Deedee Gorlin, a quirky townie. Their odyssey to find Salinger becomes a journey of sexual awakening, the discovery of love and of the meaning of one's life.
Cast:
Alex Wolff, Chris Cooper, Adrian Pasdar
| Excellent | Very Good | Good | Fair | Poor |
| --- | --- | --- | --- | --- |
| 37.8% | 20.0% | 26.7% | 13.3% | 2.2% |
"Thanks for keeping CATCHER IN THE RYE very much alive."
"Can't wait to teach it."
"It will be interesting for highs school students."
'CATCHER IN THE RYE is my favorite book. It is still one of my favorite books to teach kids today. I still relate to Holden. This was a touching, sweet film. Thanks."
"Not a big film, but a fine one. I hope it finds its audience."
"After it's run how can I get this for my high school?"
"The film moves when it's on the road to find Salinger; surprisingly true! I love Chris Cooper as Salinger. Dee Dee is so good; best character in the film. Visuals of milkweeds was a great shot. Great interview with director/writer."
"Enjoyed it very much."
"Wanted to like it more, great acting and very well directed (of course), just a little predictable.
"Beautiful but so wholesome."
"Talk about a labor of love! Mr. Sadwith shares his story with style and care and a whole lot of talent."
"Loved it."
"Sign me up for your basic road movie and this one fills the bill perfectly. The true story of the filmmaker and his actual interaction with J. D. Salinger and CATCHER IN THE RYE makes this a fascinating film. So glad you showd it, Thank you!
"Amazing that this is a mostly true story, very touching. More for teen groups than mature adults. Alex Wolff was excellent! As was the writer/director/producer guest James Sadwith."
"Kept my interest."
"A sweet ramble for Jamie to follow his dream and ultimately finds what he needed to find. Both young actors were great as, of course, Chris Cooper. Cinematography was stunning. Music track worked so well. There were so many names at the end of the credits. Mr. Sadwith thanks for coming to speak to us and share your wonderful anecdotes. You were a great guest."
"A fair coming of age film."
"A wonderful tale that anyone who has even heard of the novel should see. If you've read the novel it's a must-see."
"Great guest!"
"The movie timeline didn't always seem like 1969. I found it sometimes not authentic to the time it was portraying."
"This was a great viewing experience and a lovely film story of young Jamie and Dee De searching for themselves and J.D. Salinger by the way."
"Outstanding production."
"Gorgeous cast, camera and music."
"Ok that was one of the best films I've seen at MEA in the 25 years. It has so much human information. That is at once central to the narrative specific story and universal in relating to everyone. Like CATCHER IN THE RYE we are all Holden. Big thanks Jeanne K"
"Good for TV."
"What a delightful film! Not every movie need have profound worldwide implications or startling revelations. Thanks for no shock value, but value in the role of literature and education."
If you'd like to know more about the film...