The Eagle Huntress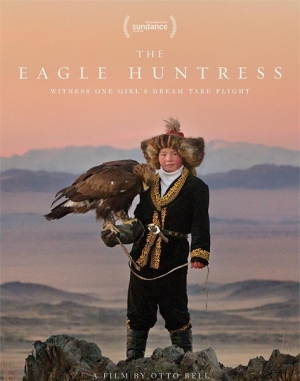 A documentary about Aisholpan, a 13-year old Kazakh as she trains to continue her families tradition of professional eagle hunters and become the first female in her family to do so. Directed by first-time documentary film director, Otto Bell, the film has won the Golden Starfish Award for best documentary at the Hamptons International Film Festival. The film has also won second place at both the Aspen Festival and, the Melbourne International Film Festival.
| Excellent | Very Good | Good | Fair | Poor |
| --- | --- | --- | --- | --- |
| 77.3% | 18.2% | 2.3% | 2.3% | 0.0% |
"Very interesting subject. Cinematography unbelievable."
"Exquisitely visually. Their faces were compelling and beautiful."
"The film was fascinating and thrilling. The talk by the director was especially informative."
"An exquisite film! Not just the magnificent photography, but also the family support, and the community warmth were amazing. Having read H IS FOR HAWK it was wonderful to see the procedure in real time."
"Loved it."
"Wonderful! Beautifully filmed! A lovely inspiring documentary. Aisholpan is such an intelligent, curious, courageous girl. Will recommend it to everyone. Did this family have more control with the outside world? The mother and father seem more forward thinking and open minded than the traditional elders. Wasn't there more opposition? It seems they didn't give her much trouble about registering. Remember the film BABE - the pig that herded sheep, the committee gave the owner a hard time and they had to search the rules to get Babe enrolled."
"OMG! Stupendous! My reaction honestly I have been left speechless by this film and by the back-story we were privileged to be given today. Wow Thanks!" Jeanne K
"Relationship between father and daughter was exquisite. So encouraging and positive. Nice to see! Balanced film nomadic life, her youthful, girlish side and huntress side, ecology."
"An incredible learning experience, beautiful photography. I was engaged in the subject matter."
"Tell me I'm going to see a film about a girl bird trainer in Mongolia and I'm hesitant to say the least, but this was one of the most remarkable films ever. Such a compelling story. We are very different and we are much the same."
"One of the most beautiful and fascinating films I have ever seen. Thank you for bringing this to us."
"Beautiful film in every way. Gorgeous photography. Fabulous story. Wonderful supportive parents! A beautiful and brave young lady! Go Girl!!"
"This film can be included in almost any of our school's disciplines – social studies, humanities, geography, sensitivity training, women's studies, cultural heritage. Good because I get to see it again."
"Gotta be an Oscar winner! Spectacular cinematography. I wonder if James Bond people are interested in incorporating Eagle hunting into their film?"
"Beautiful! The simplicity of life! A beautiful and inspiring film!"
"Visually stunning. This film literally flew by. Could it be improved? The big screen, I wish it were bigger. And drop the soundtrack, there's just no need. Authentic, awesome and beautiful."
"A rare experience."
"Fabulous! One of the best guests we have ever had."
"Beautifully shot film. The director Otto Bell was incredibly engaging and endlessly informative."
"Our guest was superb!"
"THE EAGLE HUNTRESS is an empowering human, moving and beautiful story of a young girl entering into the male dominated world of eagle hunting in Mongolia."
"What a wonderful film and wonderful guest! Thank you John!"
"Truly amazing!"
"Spectacular! The men were more evolved and generous toward girls than other cultures."
"Unbelievable cinematography."
"Loved seeing the father/daughter relationship. Very inspiring story."
If you'd like to know more about the film...