THE EXCEPTION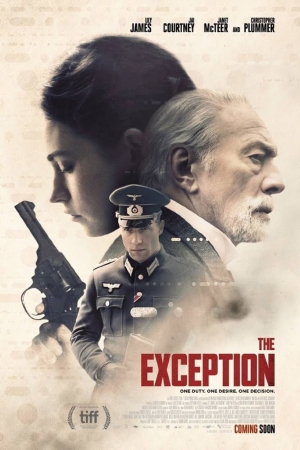 German soldier Stefan Brandt (Jai Courtney) goes on a mission to investigate exiled German Monarch Kaiser Wilhelm II (Christopher Plummer). The Kaiser lives in a secluded mansion in the Netherlands, and as Germany is taking over Holland, the country's authorities are concerned that Dutch spies may be watching the Kaiser. As Brandt begins to infiltrate the Kaiser's life in search of clues, he finds himself drawn into an unexpected and passionate romance with Mieke (Lily James), one of the Kaiser's maids.
Cast:
Lily James, Jai Courtney, Christopher Plummer
Screenplay:
Simon Burke (screenplay), Alan Judd (novel)
| Excellent | Very Good | Good | Fair | Poor |
| --- | --- | --- | --- | --- |
| 45.7% | 31.4% | 11.4% | 11.4% | 0.0% |
"Great cast! Christopher Plummer is still fantastic of course, but all the key roles were exceedingly well played, no exception."
"A tense melodramatic character study of two intersecting lives and an exiled Kaiser Wilhelm. Has the feel of a Merchant Ivory production, select interiors and exteriors. Great cast with wonderful acting, thank you for the talk with references to Shakespeare and how you as a director got into the characters."
"At first it seemed as if were a basic run of the mill saccharine love/spy story. As it developed it became an original and engaging story. The acting was fantastic, artistic, subtle and engrossing. The morality tale was not crucial or original, but the context became relevant and powerful."
"Waste of an interesting period of time, trite. Better suited as a Lifetime movie on TV."
"You're right john, an olde-fashioned melodrama where star-crossed lovers are pitted against the ravages of war. Totally diverting for a Saturday morning."
"Major problem is the script. Really bad dialogue. Acting and cinematography were very good."
"If only Mika's pregnancy at the end was able to complete this very silly story. Despite some creditable acting, there was not a single character or situation I could believe. I'm sorry not to like this movie better. The director, however, was a wonderful guest, really thoughtful and genial."
"Held my interest. Beautiful to watch. There are always exceptions!"
"You'll get some arguments from history buffs about making Kaiser Wilhelm even a quasi-sympathetic character. As one of the architects of WW1 he was as criminal as any Nazi, maybe singularly guilty of creating the environment that fostered the Nazi's."
"Loved this film. The four leads were wonderful and the director did a fantastic job. The series of shots that formed the Captain's arrival at the Kaiser's house and how they were evicted were just fantastic and the 'take your clothes off' scenes were hot! But above all David's direction was the narrative, dramatic, and visual spine of a really rich film/story. Thanks for another great year of MEA!" Jeanne K
"Slow flowing but at the same time edge of my seat."
"As a first time director Mr. Leveaux did a remarkable job of storytelling on the big screen. Great characters, richly filmed, and he was a brilliant guest. Looking forward to his return."
If you'd like to know more about the film...
Watch this panel discussion at the Tribeca Film Festival with director David Leveaux and actors Christopher Plummer and Janet McTeer as they talk about what attracted them to this project and how they chose to portray their characters: https://www.youtube.com/watch?v=MAWlj_pMQ94