FILM STARS DON'T DIE IN LIVERPOOL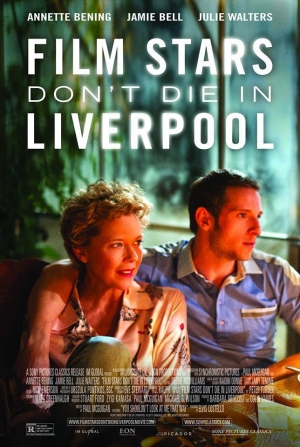 Based on Peter Turner's memoir, the film follows the playful but passionate relationship between Turner (Bell) and the eccentric Academy Award (R)-winning actress Gloria Grahame (Bening) in 1978 Liverpool. What starts as a vibrant affair between a legendary femme fatale and her young lover quickly grows into a deeper relationship, with Turner being the person Gloria turns to for comfort. Their passion and lust for life is tested to the limits by events beyond their control.
Cast:
Jamie Bell, Annette Bening, Vanessa Redgrave |
| Excellent | Very Good | Good | Fair | Poor |
| --- | --- | --- | --- | --- |
| 23.0% | 43.0% | 16.0% | 13.0% | 3.0% |
"Great vehicle for Jamie Bell's talents, great emotional range. Annette Bening is wonderful as always. Loved THE ROMEO AND JULIET scene! An interesting look of a faded star's life. Annette got the voice perfectly! Loved the music used throughout. Very time appropriate. Wonderful recording choices."
"Your right, this semester has been filled with bio-pics, from Victoria and Abdul to Marshall and Te Ata to Gloria Grahame. My pic is still Victoria and Abdu, although Bening was wonderful here (as she always is!)"
"Beautiful family of Peter's - kind, loving and generous. Gloria's insecurities caused her to not deal realistically with her illness. Reinforces the superficiality and egotism of the star system of Hollywood. Reminded me of SUNSET BLVD."
"Annette Bening is always terrific, but the film lacked coherance or significance."
"This movie would not have been made if Annette Bening was not attached to it. She could have found a better script. It is hard to figure out what this movie wanted to say. The photography, direction and sound were excellent."
"Annette Bening acted superbly aging… The makeup artist did an amazing job."
"Lot of talk about Bening and Redgrave, but Julie Walters is almost wasted here. She needed a scene where she could display her incredible talents. The story cries out for her to be a surrogate mother to Grahame, a woman 29 years older than her son, and she accepts unquestioningly."
"Annette Bening is remarkable as always. Incredible close-ups which are not the most flattering for a woman who is so concerned with her looks(not Bening, but Graham even if she is crossing a boundary that many feel is inappropriate) Perfect film to be showing at a time when abusive men are in the limelight. Just the suggestion of a similar abuse with Nicolas Ray's son's affair with a later marriage to her step son who was 13."
"Really wanted to like this film, and ultimately I did, but the pace is slow, there is no 'hook' – no reason to follow the story except for the superb performance of Bening. And a good performance cannot make an average movie great."
If you'd like to know more about the film...