FRANTZ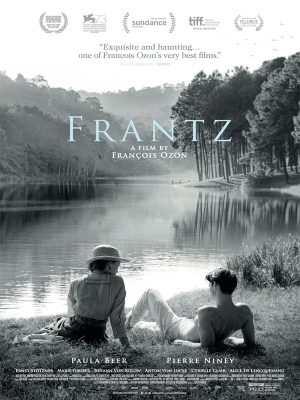 Set in Germany and France in the immediate aftermath of the First World War, (1914-1918), Frantz recalls the mourning period that follows great national tragedies as seen through the eyes of the war's "lost generation": Anna (Paula Beer), a bereft young German woman whose fiancé, Frantz, was killed during trench warfare, and Adrien (Pierre Niney), a French veteran of the war who shows up mysteriously in her town, placing flowers on Frantz's grave. Adrien's presence is met with resistance by the small community still reeling from Germany's defeat, yet Anna gradually gets closer to the handsome and melancholy young man, as she learns of his deep friendship with Frantz, conjured up in evocative flashbacks.
Cast:
Pierre Niney, Paula Beer, Anton von Lucke
Screenplay:
François Ozon, Philippe Piazzo
| Excellent | Very Good | Good | Fair | Poor |
| --- | --- | --- | --- | --- |
| 41.7% | 44.4% | 11.1% | 2.8% | 0.0% |
"Very moving and sensitive treatment of the serious subject war and its effects on individual suffering. The transition from black and white to color was very effective."
"The use of color almost all black and white seems odd. Movie brought me to tears, especially the scenes of nationalism on both sides and the devastating effects on families and loved ones."
"A beautifully crafted film. Loved the slow pace to unravel the story. I appreciated the musicand switching to color. Loved the psychological complexities, so much to think about regarding motivations and character development. A great film."
"Cross-cultural examination of the madness of war and its effects, not told by a silly love triangle but by a beautifully realized search for truth. Bravo."
"Way too long! The second act was not necessary!"
"A terrific anti-war film. What is truth anyway?"
"What a terrific final shot, although I wish it had been with a woman, or family, and not just another man. But here she is in Paris at the beginning of the Roaring 20's, Gerturude Stein, Hemingway and The Fitzgeralds. Not bad."
"Enjoyed the costumes and linens in particular."
"Story of war and pain. How we learned the pain and belief in the human spirit that shatters like glass into prisms. It was a chance to view the truth and the grief. Loved the cultural differences as well as the basics of human nature. The two countries knew little about the other until they began to cross pollinate culturally just before the war. War changed their ability to see a culture. Affluence does not erase the pain."
"Visually and emotionally interesting film; the sense of the period is implacable. Mostly black and white which created a mood of impending doom. Throughout the first half of the film I thought the lie was that he was gay and had a relationship with Frantz. Felt homoerotic obsession with Adrian and Frantz. When we discover that he killed him, those thoughts still linger. Color used to suggest a momentary flourish of life."
"Very interesting. A different film with a wonderful ending. Better that all went on to live their separate lives at peace with each other."
"Just plain and simple brilliant filmmaking. A journey of discovery and self-discovery, beautifully shot, superbly acted, and haunting final image."
"The perceived became the reality. An anti-war message!"
"Very moving, artful and cleverly plotted film. Felt like Hitchcock meets Fellini meets SLEEPLESS IN SEATTLE. Thanks!" Jeanne K
"Fantastically beautiful. Moving and important. A great lesson of forgiveness and reality. Highly recommended."
"Lush visual. Lush culture, lush music and subtle emotion!"
"What an extraordinary and thoughtful film. The script, the performances, the cinematography all are a knock out!"
"Deadly depressing! Very slow moving! Nothing happens!"
"Maybe the best film of the year so far, and certainly light years away from the mess that was THE OTTOMAN LIEUTENANT."
If you'd like to know more about the film...