HARRY BENSON: SHOOT FIRST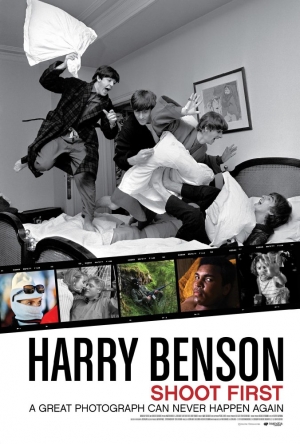 HARRY BENSON: SHOOT FIRST charts the illustrious career of the renowned photographer who initially rose to fame alongside The Beatles, having been assigned to cover their inaugural trip to the United States in 1964. With unprecedented "behind the scenes" access, Benson captured some of the most vibrant and intimate portraits ever taken of the most popular band in history. His extensive portfolio includes iconic images of Winston Churchill, Bobby Fischer, Muhammad Ali, Greta Garbo, Michael Jackson, Dr. Martin Luther King, Jr., and the Robert F. Kennedy assassination, and his work has appeared in publications including Life, Vanity Fair and The New Yorker. Now 86, workaholic Benson has no intention of stopping.
Director:
Justin Bare, Matthew Miele
Cast:
Harry Benson, Alec Baldwin, Gigi Benson,
Screenplay:
Justin Bare, Matthew Miele
| Excellent | Very Good | Good | Fair | Poor |
| --- | --- | --- | --- | --- |
| 77.8% | 20.0% | 2.2% | 0.0% | 0.0% |
"Very interesting film. I loved hearing the context with such iconic images. Great music to compliment the emotions of the photographs."
"History lessons in photos. Fabulous!"
"It doesn't get much better than this."
"Fantastic photos! How amazing to have experienced history first hand and to have helped us to feel like we did as well."
"A truly mesmerizing documentary. It gave me goose bumps, as those photos are as thrilling as - maybe more so - than any action packed blockbuster. Harry Benson is a living institution and his work will be an important, a vital catalogue of life during the post 70 years. Hopefully he can continue for many, many more. Mr. Miele has produced a work of art in his own right. This documentary is every bit as impressive as Harry Benson's photographs. An incredible collaboration. And the choice of music was also spot on. Thank you John for an exceptional experience on the screen and in the interview. I too am just wild about Harry."
"Loved the film!"
"Super! Enjoyed thoroughly! Brought back and entire lifetime of memories and emotions! Benson is a total artist and a charmer!"
"Loved how the movie was done. History in the making."
"A must for anyone interested in photography!"
"Fabulous, wonderful and beautiful. Inspires me to start up with my new camera. Thanks John!"
"Wonderfully presented, not overloaded with interviews and you couldn't overload us with wonderful photos. Curious to put his personal life – Troon, childhood home, personal friend, etc, three quarters of the way through the film. Loved it all"
"A beautiful, revealing doc about a man who uncovers the beauty in so many people. The world of fashion and fame always seemed so empty and superficial, but Harry makes it seem so multi-dimensional. His personality comes thru his photos. Though not similar in style, the film evokes my reaction to Wim WendersThe SALT OF THE EARTH about Sebastião Salgado. We learn how much can be revealed about life and the world thru photos."
"To be artistically intellectual with beauty. What a treat
"Really enjoyed this film. So interesting to find out the stories behind the photos. Would have liked to see more of his photojournalism work. Overall a good balance between serious journalism and celebrity journalism. Glad for this look at a fascinating, brilliant career. Thank Mr. Miele. Someone pointed out no Obama photos." (Ed note: There was at least one.)
"What a delight!"
"Photos of people flew by – Fred Astaire, Monroe, and many others! And many of the people I didn't recognize and yet the pictures were marvelous! Mr. Miele was right there's plenty left for a sequel."
"Superb! What a treat this was to see and to hear (my god the score was fantastic) and to experience reliving so much history was never lovelier. And so wonderful to have Harry (who is not a piece of shit, but funny as hell), his wife Gigi and director Matthew Miele with us. Big thanks John" Jeanne K
"Excellent film!"
"What can I say, the film says it all. A wonderful trubute to Mr. Benson, and Mr. Miele has created a film that is so much more than just a collection of photos. Thus it is much greater than the sum of its parts, and he deserves admiration and accolades as well."
If you'd like to know more about the film...