THE LEVELLING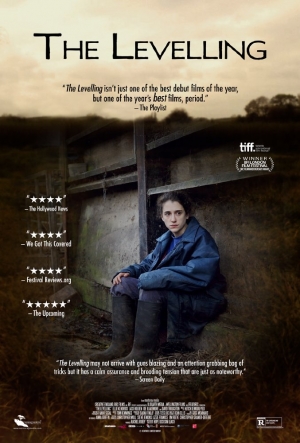 When Clover Catto (Ellie Kendrick) receives a call telling her that her younger brother Charlie (Joe Blakemore) is dead, she must return to her family farm and face the man she hasn't spoken to in years: her father Aubrey (David Troughton). She is shocked to discover her home changed forever by the devastating floods that destroyed the area six months earlier, and Aubrey a tormented shadow of his former self. As she learns what has been going on in her long absence she and her father forge a new understanding, but can it withstand the troubles that they face on the ravaged farm as well as the truth of what drove Charlie to take his own life?
Cast:
Ellie Kendrick, David Troughton, Jack Holden, Joe Blakemore
| Excellent | Very Good | Good | Fair | Poor |
| --- | --- | --- | --- | --- |
| 8.8% | 14.7% | 14.7% | 44.1% | 17.6% |
"A tremendous film about making amends between brother and daughter; between humans and land, between animals and humans."
"Horrible, depressing film!"
"I liked it a lot, a brooding, slow moving search for family truth down on the farm."
"Difficult to follow and much too depressing."
"Raises dysfunction to a new level."
"Too depressing for words."
"What film did we see of the pending apocalypse and the blackbirds swarming overhead. It was an apocalypse for this family."
"This was a long 84 minutes. So much for the wholesome goodness of farm life. I'm not sure I got the point or felt the epiphany."
"Nice depressing way to start a Saturday morning. However, great acting and interesting story. Great filming and editing."
"So well done but too depressing to recommend."
"Maybe a hopeful final scene, but not much."
"Bleak look at farm life. I'm leveled after watching this."
"Dark and brooding. Why bother?"
"A sad beautiful film about people who cannot express themselves when facing life's challengers and losses."
"Great performances from Britain, and certainly the flip side of Downtown Abbey. Floods, a suicide, tuberculin cows, a father in denial, a clueless daughter. Thank goodness for a next door neighbor and Shepherd's pie."
[Spoiler Alert] "There was absolutely a connection between the culling – the shooting and burning - of the male calf and the son's suicide. Both were shot, both were on fire. Exactly what that connection means I'm not quite sure."
If you'd like to know more about the film...