LITERALLY, RIGHT BEFORE AARON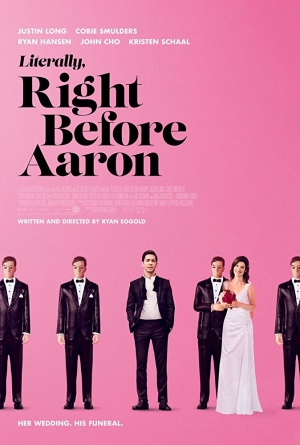 Still reeling from his breakup, Adam (Justin Long) is devastated when he learns that his ex (Cobie Smulders) is engaged. What's worse is he's invited to the wedding. When Adam returns home for the festivities, he must confront his unresolved feelings and an uncertain future in hopes of convincing himself and everyone else that he is truly happy for her. There he discovers the comedy in romance, the tragedy of letting go and the hard truth about growing up.
Cast:
Cobie Smulders, Lea Thompson, Dana Delany
| Excellent | Very Good | Good | Fair | Poor |
| --- | --- | --- | --- | --- |
| 13.6% | 22.7% | 27.3% | 20.5% | 5.9% |
"A really entertaining film with a great script and acting. Justin Long is wonderful as Adam."
"A sad comedy. The premise was ridiculous."
"Fun film. I enjoyed it."
"Smart, funny, well acted and beautifully filmed. Who would ask for anything more?"
"Terrific Ryan Eggold as a guest, but he has created a character totally dislikable in Adam. Woody Allen is a shlub and a loser, but we recognize our shlubby sleves in him and identify. Adam needs psychoanalysis for his lack of self worth and his totally immature treatment of women – his date. We had no one we could root for in this film."
"Damn good film with a terrific score. I was disturbed by seeing a feature film about a young man's emotional life: messy, immature, irrational and truly crazy. There are many films about the arrested development of men in their 20's. This one was truer and less ridiculous."
"Very engaging. Some wonderful homage's to films like THE GRADUATE. Great casting. Could have done without the Weiner-like profile at beginning."
"The film is encouraging as a first effort. However, it is very derivative of Woody Allen and THE GRADUATE without the talent of either. The wedding scene and reception go on too long, especially given the anti-climatic ending. The acting and casting were good but they needed a better script and editing to really shine."
"I loved it because it made me laugh, even though predictable."
If you'd like to know more about the film...