LOVING VINCENT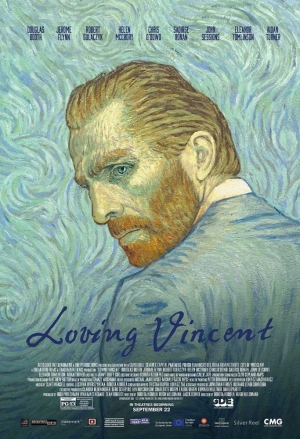 On 27th July 1890 a gaunt figure stumbled down a drowsy high street at twilight in the small French country town of Auvers. The man was carrying nothing; his hands clasped to a fresh bullet wound leaking blood from his belly. This was Vincent van Gogh, then a little known artist; now the most famous artist in the world. His tragic death has long been known, what has remained a mystery is how and why he came to be shot. Loving Vincent tells that story.
Director:
Dorota Kobiela & Hugh Welchman
Cast:
Jerome Flynn, Saoirse Ronan, Aidan Turner
Screenplay:
Dorota Kobiela & Hugh Welchman
| Excellent | Very Good | Good | Fair | Poor |
| --- | --- | --- | --- | --- |
| 69.6% | 23.9% | 4.3% | 2.2% | 0.0% |
"The movement of the background was a bit disconcerting in the beginning. I couldn't focus on what was happening at first. I was just mesmerized by the paint and strokes. Took a lot of time. What happened to Gachet's copies of Van Gogh's work? I wonder if Gachet sent the actual letter to Van Gogh's wife? I found the black and white most distracting."
"Beautifully done."
"I really liked this movie and as an artist I loved watching the brushstrokes come to life. And especially admired the black and white past which had the paintings more realistic looking and it worked great."
"I am amazed at the realism of the paintings throughout the film. The artistry of both the black and white portraits compared with the color flooded pictures added to the experience of watching the film."
"Beautifully creative and innovative!"
"Disconnected at first but once adjusted to it it worked. Loved learning more about art and human nature. The waves of brushstrokes were remarkable. Viewers are pulled into Van Gogh's paintings because of the emotions they express. There is a reason his work is so popular. The final credits with the bios and photos were excellent."
"Outstanding art film! Empathetic story done in animation, the paintings come to life."
"As a Van Gogh fan what a joy to see his work come to life! Watching the movie via the paintings I felt the full emotions of Vincent's feelings and his love of humanity."
"Film's use of unreliable narrative doesn't tell us exactly who to believe."
"I loved this film, both for its narrative rendering (info about Van Gogh's life and death) and its astonishing accomplishment — as the first fully-painted film, essentially creating an original medium. Though I confess: a part of me watching it kept thinking couldn't they have done this animation-but-based on real oil paintings - cheaper, and lord knows: faster, and possibly more graphically interesting using CGI or some other technology? Did this NEED to involve/require the thousands of artists in Van-Gogh hommage painting 65,000 frames to create it effects? The more I thought about it more I came to respect the story behind the story in it that is, I guess, as central to what the makers of the film wanted to convey as the pure tale of VanGogh's tragic end.
I did wonder if the main story was true biographically. Was there an undelivered found letter and was the text of that letter the one that we hear at end of the film? That text, Van Gogh's rumination re "death.. returning to the stars… " is at that point in the film placement almost too perfect - eerilly prophetic re his most famous painting and his tragic early death. Throughout the film we are both wondering how he really died (huge factoid) and what is in that undelivered letter (minor but increasingly potent as it goes undelivered and ostensibly unopened for so long). The tension between the two is so well sunk into the viewer's info-base as the film progresses.
Yet it left me depressed: what an awful choice VG made and it would seem, bravely made given info he received.
But simply put: I found LOVING VINCENT deeply compelling (re story of VG, his illness, his talent, his unparalleled legacy of 880 painting in 8 years and only one sold yet dozens now wildly familiar to millions of us), and deeply engaging (re the film's amazing visual genre and its narrative arc - how the writer stacked it all, keeping viewer wondering what really happened (suicide? murder? accident?), and setting it all from POV of a highly reluctant central figure, the postman's son.
If you'd like to know more about the film...
'Loving Vincent' is the world's first oil painted animated feature to hit the screen, get the inside scoop on how this incredible success was accomplished by reading these 6 facts.
http://www.cartoonbrew.com/feature-film/loving-vincent-6-facts-first-oil...
Vincent van Gogh is one of the Netherlands' most famous artists. Read his biography, discover the stories about his life and work, and explore his paintings and drawings in the museum's collection.