MARSHALL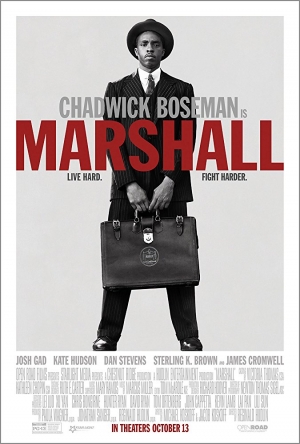 Director Reginald Hudlin's Marshall, is based on an early trial in the career of Supreme Court Justice Thurgood Marshall. It follows the young lawyer (Chadwick Boseman) to conservative Connecticut to defend a black chauffeur (Sterling K. Brown) charged with sexual assault and attempted murder of his white socialite employer (Kate Hudson). Muzzled by a segregationist court, Marshall partners with a courageous young Jewish lawyer, Samuel Friedman (Josh Gad). Together they mount the defense in an environment of racism and Anti-Semitism. The high profile case and the partnership with Friedman served as a template for Marshall's creation of the NAACP legal defense fund.
Cast:
Starring Chadwick Boseman, Josh Gad, Kate Hudson, Dan Stevens, Sterling K. Brown, and James Cromwell.
Screenplay:
Jacob Koskoff, Michael Koskoff
| Excellent | Very Good | Good | Fair | Poor |
| --- | --- | --- | --- | --- |
| 80.0% | 13.3% | 6.7% | 0.0% | 0.0% |
"An important film that was well done!"
"Misnamed, but an intriguing story. Its as much about Friedman as Marshall."
"A must see! Well-crafted script and story telling. Excellent acting! Right up there with SELMA. Only script flaw, why didn't the writer have Willis (prosecutor) make objections and questions during Spells questioning by Friedman. The judge would have sided with certain testimony being heard."
"Excellent! Must be seem by as many people as possible, especially young students who really need to understand our history as a country, racial and religion."
"The subject was A+, the acting was A+. The story is very important – one that we must all know. I found the screenplay and direction so heavy handed. This film would have been far more compelling if its agenda was less pushed and screenplay less zealous. Can't find the perfect word." Jeanne K
"A very engaging film about an important subject. The acting and dialogue were both very good."
"Riveting story (amazing that few people know of this!) great film, great cast. Oscar worthy all round. Love the fact that this was a father/son screenplay."
"Oscar worthy! Great actors make history come alive."
"A very engaging film about an important subject. The acting and dialogue were both very good."
"I predict that MARSHALL will be shown in school rooms across the nation for decades."
If you'd like to know more about the film...