THE OTTOMAN LIEUTENANT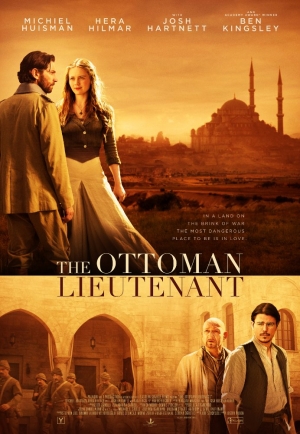 A beautiful, strong-willed woman, who, frustrated by ongoing injustice at home, leaves the United States after meeting Jude, an American doctor who runs a remote medical mission within the Ottoman Empire - a world both exotic and dangerous, and on the brink of what is about to become the first World War. There, she finds her loyalty to Jude and the mission's founder tested when she falls in love with their perceived enemy, a lieutenant in the Ottoman Imperial Army. Now, with invading army forces at their doorstep, and the world about to plunge into all-out war, she must make a decision if she wants to be what other people want her to be, or to be herself.
Cast:
Michiel Huisman, Hera Hilmar, Josh Hartnett, Ben Kingsley
| Excellent | Very Good | Good | Fair | Poor |
| --- | --- | --- | --- | --- |
| 8.3% | 27.8% | 16.7% | 27.8% | 19.4% |
"Splendid cast. Ben Kingsley was fantastic. Hera Hilmar was luminously beautiful and convincing. The two male leads were so easy on the eyes! This film is worth seeing only for its cinematography, music and costumes! I was quickly and readily swept away by and in it. Blue Mosque scene was stunning Thanks John!" Jeanne K
"Good idea, loved being in Turkey and seeing the landscape and Istanbul. The screenplay feels so trite and hokey. The historical context feels muddled. The lieutenant provides great eye candy. What made Ben Kingsley join this project? The Lieutenant looks like a young Ben Kingsley. I never got the idea that Lily was a Christian missionary. So why the scene of her singing Christian songs? Feels like it was a misplaced scene. Lily and doctor's relationship was cordial but distant."
"A barely watchable depiction of Turkish propaganda. Genocide? Forget that, watch this turgid love story."
"A lot of effort went into this film and it's certainly beautiful to look at. But I found the orchestration overbearing, the dialog overly simplistic (maybe a sixth grade level). The casting was far too pretty. Not for me."
"The producer basically explained this mess. It was made backwards and in a rush! Where did they find Hera Hilmar? Were they in such a rush they could not find some one with at least some star quality?"
"Predictable. Perfect white woman that no one could resist. Not much thought."
"One more horse ride through the fields of barley and I was on the D train uptown."
"A Harlequin novel!"
"Overly dramatic with annoying music! A serious subject that was superseded by an unbelievable Romeo and Juliet romance. It belittled the serious nature of war, too bad."
"Thanks for the Skype interview with Stephen Joel Brown. He was far more interesting than his movie."
"I loved Ben Kingsley. The leads are beautiful and handsome. Gorgeous scenery. But historical fiction, especially around sensitive topics, must treat the history carefully. This film does not!"
"Why are Turkish people speaking English to each other?"
"Simplistic story with over bearing music used to direct audiences responses."
"Maybe the worst performance by a lead actress I seen in a long time."
"Film took a terrible war and made a terrible movie. The music was very intrusive. Gave actors jobs!"
"A melodramatic love story. At least brings to light the Ottoman, Russian story. Beautiful scenery. Music was too swelling. The film was too predictable. Beautifully shot. Authentic looking. What a departure from his other films. The screenplay was not too good. It seemed like they were reading their lines and not acting."
"Trite, sentimental and predictable. The cinematography was beautiful."
"Beautifully filmed with great music. Somewhat predictable. Question: is she pregnant?"
"Trite!"
"A serious topic with a juvenile soap opera approach."
If you'd like to know more about the film...