The Pickle Recipe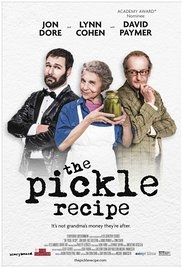 Joey Miller is the undisputed king of Detroit party MC's. He's also a single father and deeply in debt. To make matters worse, during his latest, one-of-a-kind wedding performances, all his prized sound equipment gets destroyed in a freak accident. To add insult to injury, his daughter Julie's Bat-Mitzvah is only weeks away and she's counting on him to MC her party. After exhausting all of his options, he turns to his shady Uncle Morty, who agrees to give him the needed money to get back into business. But only under one condition. Joey must go and steal his grandmother Rose's most prized possession: her famous top secret dill pickle recipe. And it's a recipe which she has vowed to take to her grave.
Cast:
Jon Dore, David Paymer, Lynn Cohen
Screenplay:
Sheldon Cohn, Gary Wolfson
Studio:
Adopt Films, Storyboard Entertainment
| Excellent | Very Good | Good | Fair | Poor |
| --- | --- | --- | --- | --- |
| 13.0% | 37.0% | 30.4% | 10.9% | 8.7% |
"So much to like about THE PICKLE RECIPE from the shots of Detroit to the acting of Lynn Cohen and John Dore to the pickles!"
"Silly but entertaining. A treat for a Saturday morning. Lynn Cohen is an inspiration!"
"The acting of the main character was good but movie was pure schmaltz! Too over done."
"Lynn Cohen made me laugh and was terrific. The acting was best part."
"Adorable! Made me laugh and cry,"
"Really good movie."
"Nice film, a bit choppy with disconnected scenes."
"The Bat Mitzvah scene was too long."
"Best scene – the cops who thinks he's dealing drugs say 'No it's pickles, nicely seasoned with a hint of coriander.'"
"Most enjoyable. I had an uncle who was a pickle maker with a sacred recipe!"
"Light comedy with fun cultural references."
"The only good thing about this terrible stereotypical movie is Lynn Cohen."
"The acting was superior to the material. Sweet thought, idea was good beginning was flat and did not work. It improved. Many will like it but it really is mediocre of course it is worth it just to see Lynn Cohen. Interesting to see Detroit."
"Great score."
"Amusing enough but a pretty minor motion picture. I did like Lynn Cohen's character (Rose). The rest of the cast did not rise to her level."
"The script had too many clichés and corny and predictable. Lynn Cohen was so enjoyable to watch. Morty was good but I didn't like his character and he did it well. Overall reaction although some really funny moments, too corny and predictable. Many New York Jewish people will like it a lot but not anyone who is intellectual. Liked be a mensh message."
"Loved it! Great characters."
"This recipe is tried and true, and it works pretty well. But the best ingredient is Lynn Cohen, close to being an undiscovered national treasure. What a wonderful lady and a great guest! Thank you!!!!"
"Lost me in the middle. I got bored. Lynn Cohen is a delight!"
"Film walks a fine line between celebrating a culture, spoofing a culture and stereotyping a culture."
"OK, so it's not Bergman or Spielberg but just have fun and go with it."
"I'm sorry all schmaltz. This screenplay was really awful. A pushed manipulated attempt to engage the audience but comedy/sentimental human drama just won't work when you see all the formulas being tried."
"Pickles never looked so good! Lynn was fantastic. A true inspiration!"
"More garlic less schmaltz! Lynn Cohen was the only light in the film. So many clichés from scene one on, it made me cringe. If this is a film which hopes to be endearing it misses terribly. The much chosen was like nails on a blackboard. Klezmer music again becomes too cliché. When Lynn Cohen is on screen it breaks through the stereotypes more than other characters that are thinly drawn. The fact that she is a survivor should have come up sooner. Too much on the last scene which cheaply wraps everything up."
"I'm bias. I love kosher pickles, so I loved it. Great casting!"
If you'd like to know more about the film...