Please Stand By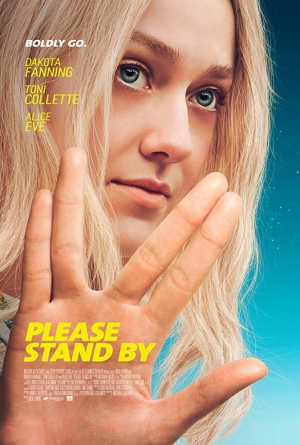 A young autistic woman runs away from her caregiver in an attempt to submit her manuscript to a "Star Trek" writing competition.
Cast:
Dakota Fanning, Toni Collette, Alice Eve
| Excellent | Very Good | Good | Fair | Poor |
| --- | --- | --- | --- | --- |
| 15.5% | 42.2% | 26.6% | 13.3% | 2.2% |
"Brilliant! I totally loved it."
"A great beginning to our season! OK, I admit it I'm a Trekkie, but even if you're not you will like this film, it's more about ANYONE overcoming their own limitations and living a better life."
"The acting for Dakota Fanning was very realistic. As a high-strung person she showed her intelligence so well. She was extremely resourceful for a woman who needs to live a scripted life. Aspergers is no longer a diagnosis medically. It's called high-functioning Autism."
"Gotta love the dog. Not a profound movie but felt sincere."
"Great that they used real people as patients. And God bless those health care workers who work with these kids - they have infinite patience and work with some very troubled young adults on little or no budgets"
"Loved the scene with the cops. Patton Oswald speaking Klingon. Ridiculous movie but it had its moments. Great cast."
"A good try at a story regarding determination and spirit. Although it was an admirable attempt, the film didn't really do much for me. Road trip to L.A. was too bland. Her travels were not that exciting or suspenseful to me. An honest film that falls flat."
"Loved the Klingon dialogue between the cop and Fanning."
"Cute but unlikely."
"A very lovely "small" movie and I mean that in the best possible terms. Not everyone is Molly from Molly's Game and a super skier and over-achiever. There are many, many kids out there (believe me I deal with them all the time) who are like Dakota to a lesser or far greater extent. And they are heroes for their small achievements – yes literally being able to cross the street on their own."
"Extremely fake and misleading."
"Some may think it simple, but there are many challenges of life alluded to. Metaphor, fable quality good for short attention span. Real emotions well done. Great characters. More Klingon please."
"A feel-good movie - you know where its going and enjoyed the trip."
"Good acting. Realistic story of a young lady with Aspergers."
"A great concept of using a girl who knows she's not like other people and so identifies with Mr. Spock as they are or feel half-human. And Fanning does a great job of not overacting the part where it is easily possible to slip into histrionics."
If you'd like to know more about the film...