THE SENSE OF AN ENDING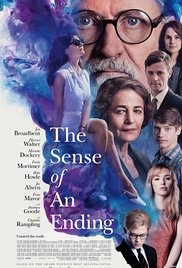 Tony Webster (Broadbent) leads a reclusive and quiet existence until long buried secrets from his past force him to face the flawed recollections of his younger self, the truth about his first love (Rampling) and the devastating consequences of decisions made a lifetime ago.
Cast:
Jim Broadbent, Charlotte Rampling, Harriet Walter, Emily Mortimer and Michelle Dockery.
Screenplay:
Julian Barnes (novel), Nick Payne (adaptation)
| Excellent | Very Good | Good | Fair | Poor |
| --- | --- | --- | --- | --- |
| 21.4% | 39.3% | 25.7% | 3.6% | 0.0% |
"Good reminder that some of our life-long assumptions could be in doubt."
"So many questions unanswered. Maybe the novel does!"
"I loved the book and even with changes really enjoyed the film. Jim Broadbent is wonderful!"
"Typical British movie, nice to look at but not a lot happens."
"A film is not a book but this film translates the book very effectively while updating the story by introducing Google Search by the friends of Tony (lovely visual, never seeing the screen or see their response to a google search). The scene at dinner at Veronica's home makes clear how Tony is out of his depth. The arrogance that he wants to be a writer! As they recite Dylan Thomas and Larkin poetry they are clearly testing him and playing with him to see if he's a good fit. (Not up to Adrian who will later be the chosen one.)"
"Too long, too confusing. Did not come together well."
"What a wonderful, austere, haunting film. Great acting of nicely defined characters, especially in a film where the characters themselves aren't sure who they are!"
"Maybe a bit slowly paced for the average viewer but I enjoyed the ride. There was care and thoughtfullness to every plot twist and character revelation."
"Great comparison to the novel, will suggest it to the book club."
"I loved, loved, loved The Lunchbox, so if I'm slightly – only slightly mind you - disappointed it's only because the bar was set so high."
If you'd like to know more about the film...