TE ATA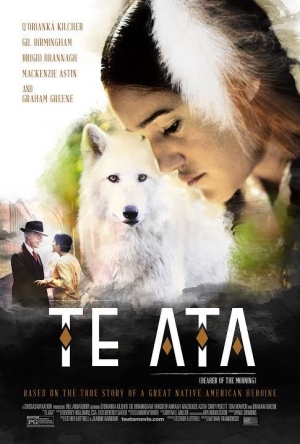 Te Ata (TAY' AH-TAH) is based on the inspiring, true story of Mary Thompson Fisher, a woman who traversed cultural barriers to become one of the greatest Native American performers of all time. Born in Indian Territory, and raised on the songs and stories of her Chickasaw tribe, Te Ata's journey to find her true calling led her through isolation, discovery, love and a stage career that culminated in performances for a United States president, European royalty and audiences across the world. Yet, of all the stories she shared, none are more inspiring than her own.
Cast:
Q'orianka Kilcher, Gil Birmingham, Graham Greene
Screenplay:
Jeannie Barbour, Esther Luttrell
| Excellent | Very Good | Good | Fair | Poor |
| --- | --- | --- | --- | --- |
| 34.0% | 42.1% | 10.5% | 13.2% | % |
"A story that must be told again and again, considering the leadership of our country today who are blaming Americans for their problems. I'm certain that the hardships of the Chickasaw are down-played in the film. Good story, slow start and a bit too cliché and stereotypical at the beginning. It got much stronger after she went to college."
"Should be shown in all schools, especially elementary."
"A lovingly made film and since I knew nothing about Te Ata a very important story to see and hear. Q'orianka Kilcher the actress portraying Te Ata was very talented and the music was gorgeously presented.
"Beautiful story of Native American people beautifully shot. On the other hand, it was straightforward and uncomplicated and might be better as Disney or Hallmark TV movie."
"An important part of Chickasaw history that needed to be told. The script was a bit cliché. Neither less I hope it get distribution and is shown on PBS for wider viewing and in schools. What a wonderful person who stood up for her culture. I'm sure there were incidents where she was subjected to much more prejudicial behavior toward an Indian by white people. Thanks for showing this! Cinematography was beautiful. Highlights the need for cultures to preserve and share their practices."
"Earnest and sincere and will probably appeal to a large number of viewers. If it lacks nuance and substance, and perhaps skips over many serious issues, that's the filmmaker's choice. But the native American has much more to complain about white men then "they don't sing over their corn."
"Beautiful story fabulously filmed. Another important film to be seen especially by school children as well as all people. Thanks for a really wonderful film."
"This is an important film because it tells the kind of story audiences do not see enough. The screenplay while being less dramatic and mature than it should have been is non-the less a valiant effect to convey the story of such a beautiful artist and art form. The film should be required for young audiences, it is written on a fairly simplistic level they will be able to comprehend. While I appreciate the intentions of the filmmakers of Te Ata I cannot avoid considering the what the movie would have looked in the hands of more seasoned professionals. This is not a criticism of the effort its just an inescapable comparison."
"A wonderful tribute to cultural resilience and the power of story telling"
"I'll admit it, it was 'heart-on-sleeve, but it all works very well, and brought tears to my eyes."
If you'd like to know more about the film...