TOMMY'S HONOUR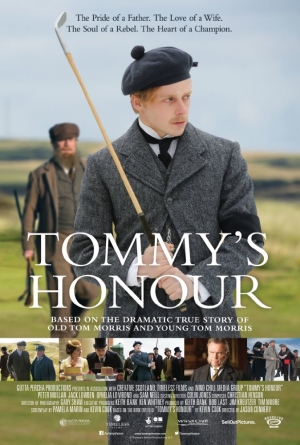 A father (Peter Mullan) wants only the best for his son, but struggles to guide him in a world thats changing as fast as the boy himself. A son (Jack Lowden) blessed with talent, fueled by ambition, chafes at his fathers commands as he hurtles toward adulthood with all the moxie of untarnished youth. In every generation, a torch passes from father to son. And that timeless dynamic is the beating heart of Tommy's Honour - an intimate, powerfully moving tale of the real-life founders of the modern game of golf.
Cast:
Sam Neill, Ophelia Lovibond, Peter Mullan, Jack Lowden
| Excellent | Very Good | Good | Fair | Poor |
| --- | --- | --- | --- | --- |
| 41.7% | 33.3% | 16.7% | 5.6% | 2.8% |
"Jason was a stupendous, generous guest and so good natured to play a few strokes. The film was beautifully shot, cast and constructed. Interesting look at early golf game and developing ideas on golf."
"For a non-golfer, an interesting biopic and history of the game. The acting was superb."
"Loved the film, despite no interest in golf. Accents difficult to understand could have used subtitles."
"Much to my surprise, I loved this movie. A father-son story, but also a coming of age of Tommy as well as the game. I appreciated how many relationships received close attention in this film: mother–son, Meg and Tommy's sister, Meg and Nancy, Tommy and his mates. No one was short-shrifted. It was a rich and complex telling far more than just a sports story."
"Scottish accents are authentic but often frustrating."
"Jason Connery was one of the best guests ever at MEA, charming, gracious, informative, and yes, very handsome."
"Forced to pick a genre I would go with 'coming-of- age' film rather than sports film, but so many other elements are here as well – an moving love story, and even a case study in class structure."
"I am not interested in the sport of golf, but this film was very interesting and held my interest."
"Beautiful film in so many fronts. At times I found it hard to decipher the accents. Loved the opening credits and camera running over the water. Also loved the closing shots. Wish I'd known this was a biopic watching it. Still I was taken in by the film and its integrity and empathy about the true, sad story. Good work Jason Connery!" Jeanne K
"What a terrific cast! Father and son were superb. Do they give awards for best Father/son acting?
"A great movie with something for everyone! Superbly acted, a great golf story, a great love story. And the cinematography, the costumes, etc. - all were gorgeous!"
"Loved the film as a character study and slice of golf history. Excellent acting. Would recommend it to non-golf players. The pace of the film was very good - engages one and moves the story along."
"I couldn't understand the words spoken."
"What a terrrific film – not just for sports fans but as a marvelous exploration of father and son relationships. And a great love story as well."
If you'd like to know more about the film...