VICTORIA AND ABDUL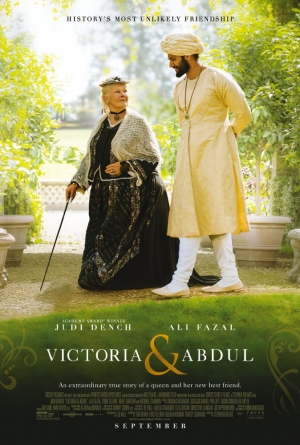 The extraordinary true story of an unexpected friendship in the later years of Queen Victoria's (Academy Award winner Judi Dench) remarkable rule. When Abdul Karim (Ali Fazal), a young clerk, travels from India to participate in the Queen's Golden Jubilee, he is surprised to find favor with the Queen herself. As the Queen questions the constrictions of her long-held position, the two forge an unlikely and devoted alliance with a loyalty to one another that her household and inner circle all attempt to destroy. As the friendship deepens, the Queen begins to see a changing world through new eyes and joyfully reclaims her humanity.
Cast:
Judi Dench, Olivia Williams, Michael Gambon
Screenplay:
Lee Hall (screenplay), Shrabani Basu (based on the book by)
| Excellent | Very Good | Good | Fair | Poor |
| --- | --- | --- | --- | --- |
| 54.0% | 36.0% | 10.0% | 0.0% | 0.0% |
"Good luck topping this film for the rest of the year. Brilliant filmmaking, an absorbing piece of history that doesn't resonate today it shouts out what we HAVEN"T learned from history and are doomed to repeat."
"This was a wonderful film that managed a delicate balance of circumstances and point of view. Victoria was a prisoner to her position. Abdul was an earnest opportunist. Mohammed was a bitter and unwilling servant in the palace. Bertie and the rest of the court threatened. Frears did a fine job of weaving all the treads and (more) into a fine movie."
"Loved seeing the contrast between the 2 different countries."
"Oh John: What a fabulous pick for our first film of the year! Loved it and was moved by both the compelling story and the rich production. The may be Judi Dench's finest performance. While some of our members had issues with the film's failure to focus or develop aspects of racism or female/sexist issues I had absolutely no problem with those issues."
"This was a very entertaining movie with an intense history lesson of social issues and a loving sweet relationship between Victoria and Abdul."
"Fabulous movie for EVERYONE. Densch is an international treasure an Ali Fazal holds his own. Great minor cast as well – Izzard, Gambon and especially Simon Callow. One minor note: I'm pretty sure the phrase "morbidly obese" didn't exist back then, but we got the point."
"Enjoyed the depth in the story line. I just wanted it to go longer."
"I loved this film. Judi Dench is extraordinary as Queen Victoria and so were the supporting cast. Relationships are well developed and believable."
"Beautifully filmed. Judi Dench is royal!"
"The bloody caste system for both India and England made this story work. Loved this movie. Nice to start this season with a smile."
"Could have definitely been more historically accurate."
"Loved it. Thank you, John. Amazing production."
"Interesting depiction of a time in history that I know nothing about! Judi Dench shines."
If you'd like to know more about the film...