DESTINATION UNKNOWN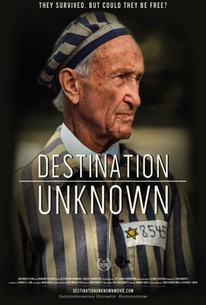 Destination Unknown blends intimate testimony with immersive archive to bring the stories of twelve Holocaust survivors to the screen. The survivors share their memories, some for the first time, some for the last, bringing their experiences to a new generation. They endured the death camps. They hid in remote farms. They fought as partisans in Polish forests. But when the war ended, those survivors' struggles were only just beginning. With the only interview ever recorded of Mietek Pemper, the stenographer for the Kraków-Płaszów concentration camp Commandant - Amon Göth and advisor to Oskar Schindler, who previously refused to talk on film, among other incredible personal stories, Destination Unknown paints a uniquely intimate portrait of survival, revealing the pain that has never faded, but cannot crush the human spirit. Their stories do not end with liberation. We see how they had to survive the chaos that came afterwards, and their attempts to build new lives.
Cast:
Cesia Mosberg, Ed Mosberg, Mietek Pemper
| Excellent | Very Good | Good | Fair | Poor |
| --- | --- | --- | --- | --- |
| 53.0% | 40.0% | 7.0% | % | % |
There can't be enough of these powerful and vivid films depicting the horrors of this horrific time. These aged survivors who tell their stories serve as reminders still of past generations.
DESTINATION UNKOWN is yet another example of the power of the documentary. It tells important stories that need to be heard over and over again by everyone. We owe a thanks to the filmmakers and the subjects for their efforts to keep our eyes and ears and more importantly our hearts open.
Excellent film footage and heart felt narration supported by a beautiful score. I thank Mr. Mosberg for his appearance and his bravery and his willingness to share his story.
An important and well-made movie. (Though I disliked the over-signaling soundtrack.) Hard not to see this as a warning about where the West seems to be going in its demonizing of Muslims.
The combination of archival footage and survivor interviews is very powerful. There are many moving moments, but the one that stands out to me is the man's story of tracking down and rescuing his father.
Well meaning and often chilling - to the bone chilling. But I wish there had been more about their lives after their liberation. How did they build their destroyed lives, how did they get on with daily chores? If their destination is unknown give us more info to make it known.
The description of Amon Gothe was a revelation. What a monster. I had a hard time watching this film and not thinking of Trump and his cronies.
The story must be told and this is told in such a personal emotional and powerful way. Thank You!
Profoundly moving. I will not forget this film. I have no more words. Jeanne K
People need to see this movie. It is horrible to see how much evil people are capable of. I remember this quote THE ONLY WAY EVIL CAN TAKE OVER THE WORLD IS IF ENOUGH GOOD PEOPLE REMAIN SILENT.
If you'd like to know more about the film...