Next Film
Media Educators Association and our Saturday Morning Film Festival is back for our 47th (!) year of screenings and discussions.
Please join us this Fall for a new season of our on-going festival of the best films from around the world!
Screenings are held at the Cinepolis Chelsea 9 Theater, 260 West 23rd Street, NYC, just east of 8th Ave.
Our next film will be screened on
Saturday, September 23, 2017
PLEASE NOTE: director Ryan Egghold or select other producers will be making an guest appearance at this screening.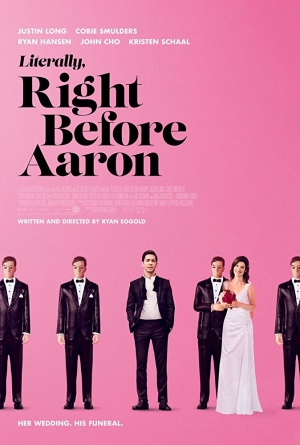 LITERALLY, RIGHT BEFORE AARON
Still reeling from his breakup, Adam (Justin Long) is devastated when he learns that his ex (Cobie Smulders) is engaged. What's worse is he's invited to the wedding. When Adam returns home for the festivities, he must confront his unresolved feelings and an uncertain future in hopes of convincing himself and everyone else that he is truly happy for her. There he discovers the comedy in romance, the tragedy of letting go and the hard truth about growing up.
Cast:
Cobie Smulders, Lea Thompson, Dana Delany
Chelsea 9 Theatre