LOVELESS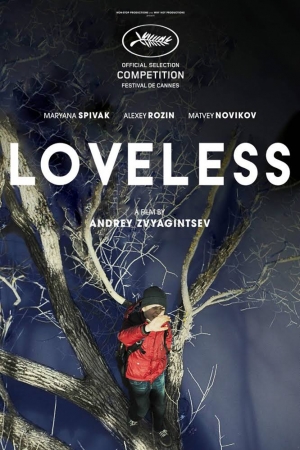 An estranged Russian couple going through a brutal divorce both have new partners and want to start over until their 12-year-old son disappears after witnessing one of their fights.
Cast:
Maryana Spivak, Aleksey Rozin, Matvey Novikov
Screenplay:
Oleg Negin, Andrey Zvyagintsev
| Excellent | Very Good | Good | Fair | Poor |
| --- | --- | --- | --- | --- |
| 11.1% | 44.4% | 16.6% | 16.6% | 13.8% |
"Terrifying but totally absorbing. A real commentary on human frailty, emotional failure and abdicating of responsibility. Acting and music were great!"
"This film depicted hideous people except the volunteers. Grandmother from Hell!"
"This was a beautiful film - as long as any Russian novel, chilling in every way. I hope it is not a realistic picture of Russian life because it was a heartbreaking and vivid picture of community/statewide soul death."
"Like the boy I wanted to run away from this miserable place. The volunteers were the only redeeming aspect in this film. That and fact we weren't shown in the end that he had hung himself with that red and white swirling scarf. Thanks John!"
"An interesting topic to explore. Very unsettling film. So many children go missing all over the world. The filmmaker has quite a negative view of people and institutions. Many visual images bring the point to bear. This was a very intellectual film commentary on the lack of feelings."
"OK the mother and father are Russia and the Ukraine, the boy is the future (if he has one), the past is the Grandmother from Hell in the form of Stalin – she's even called Stalin in a Skirt. But the people of Russia – shown as the volunteers - are wonderful and can do great things. As political metaphors go this is obvious, bleak and unpleasant."
"This film was not worth our time! Poor choice! I cannot believe the Academy nominated this film."
"M is still the best movie about a lost child. This film shows a couple who are so totally absorbed in themselves that even the unimaginable loss of a child leaves no lasting impression. Chilling in every way."
"Very slow moving with no conclusion."
"LOVELESS was pointless, endless, useless and clueless."
"Must have been a weak year for foreign language films at the Oscars."
"LOVELESS was pointless! Waste of my time. We felt we were in Siberia on screen and in the theater."
"Streamer thrown into the tree - I think that is where he drowned himself."
"Movies are – were – about likeable characters we identify with and then go on their journey. Not sure I'd want to spend two minutes, no less two hours with this family."
"Cold and bleak depiction of Russia. Cell phones, office cubicles and bad food everywhere. Mr. Trump, please don't let Putin take over."
If you'd like to know more about the film...