A QUIET PASSION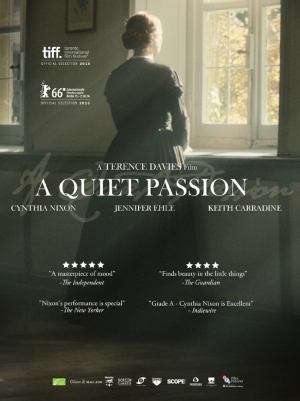 The story of American poet Emily Dickinson from her early days as a young schoolgirl to her later years as a reclusive, unrecognized artist.
Cast:
Cynthia Nixon, Jennifer Ehle, Duncan Duff, Keith Carradine
| Excellent | Very Good | Good | Fair | Poor |
| --- | --- | --- | --- | --- |
| 12.5% | 15.6% | 12.5% | 43.8% | 12.5% |
"Good acting, dialogue was good. Too many death scenes."
"Good discussion! Thank you."
"What's not to love? A beautiful tribute to an American icon with lovely images, great acting and wonderful poetry."
"Terribly long and tortuous. Another Saturday morning comedy!"
"Cynthia Nixon was superb and her performance is one of the most memorable roles in recent years. The movie itself will not long be remembered."
"I wanted to like the film but slow moving. I found it overlong and tedious. Would not recommend it."
"The Civil War footage (colorized!) seemed out of place with the rest of the movie, a current events update completely missing from the rest of the movie. Was this some sort of formative element in her life and/or poetry?"
"MASTERPIECE THEATER comes to Amherst. Very slow moving. The choice of poems reinforced the message to be conveyed."
"A QUIET PASSION opens to clever banter, beautiful period sets and beautiful costumes. It ends with beautiful costumes, beautiful period sets, dreariness and tedium."
"Loved the audacity of the movie to present a famed poet with a script and direction that approach cinematic poetry rather than prose. Not your basic narrative structure, characters are more quick elements in her world rather than fleshed-out characters, her interactions with others only passing moments."
"Whenever I see a film that takes place in this era, it seems that people are uncomfortable, their cloths, their, formality, their stiff manners, their rigid posture. This film presents Emily as a woman who is uncomfortable in her time and place. Perhaps her life would have been different if the times allowed her to lounge around in sweatpants and a t-shirt."
"I like this movie a lot. The subject, the cinematography, the sound. But I found the dialog stilted. Why? Was it because it was lifted word for word from letters? Was it true of the speaking patterns of the time? It was an affect that put me off at first, but once I abandoned myself in the film I fell into the film's world."
"How to make a long story longer."
"Biopics often play with some of the facts of the life under question, this film plays a lot with the facts, there's a lot of elements of Emily Dickinson's life ignored in telling her story in this film."
"Does it ever snow in Massachusetts? Use of panorama of parlor was great."
"Panning shots way too long and too often not effective."
"I'm glad I saw it but Lord it was slow and painful!"
If you'd like to know more about the film...