SWEET VIRGINIA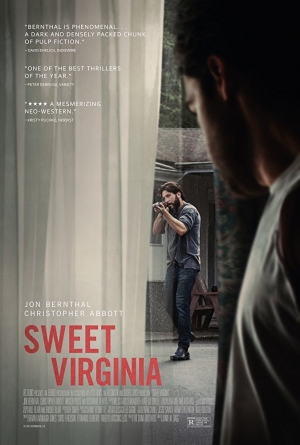 A mysterious stranger sends shockwaves through a close-knit community in this nerve-jangling slice of raw suspense. In the wake of a triple murder that leaves the residents of a remote Alaskan outpost on edge, tightly wound drifter Elwood (Christopher Abbott) checks into a motel run by Sam (Jon Bernthal), a former rodeo champion whose imposing physical presence conceals a troubled soul. Bound together by their outsider status, the two men strike up an uneasy friendship-a dangerous association that will set off a new wave of violence and unleash Sam's darkest demons. Driven by tour de force performances from Christopher Abbott and Jon Bernthal, this precision crafted thriller pulses with an air of quivering dread. With Imogen Poots and Rosemarie Dewitt.
Cast:
Jon Bernthal, Imogen Poots, Christopher Abbott
Screenplay:
Paul China, Benjamin China
| Excellent | Very Good | Good | Fair | Poor |
| --- | --- | --- | --- | --- |
| 25.0% | 16.0% | 23.0% | 20.0% | 15.0% |
"An exercise in making film noir, atmospheric but I am not a fan of all that violence, there's enough in real life. It's the mother's fault, poetry in the writing! At times the music was over melodramatic. To me it was somewhat predictable as to what was going to happen. I agree with Mr Abbot's comment about their not dwelling on violence too long."
"Absolutely fascinating film, made more so by Mr. Abbott's comments of what was and what is. Great to hear and thanks!"
"We remember classic roles and Noir: DOUBLE IDENTITY, THE THIRD MAN and CHINATOWN, but most noir had some great shots, strange dialogue and scattered plots. SWEET VIRGINIA belongs to that. Christopher Abbot was fantastic! He clearly liked speaking to us and his answers provided real insight into his craft."
"As good as most of the actors were, the villain just didn't sell it for me. He wasn't convincing enough which made me realize how stupid some characters were compared to the smarter ones."
"Stylized and moody, but I am not too confident that the script/story had enough meat to do justice to the style. It was reminiscent of BLOOD SIMPLE, but it lacked its substance and quality."
"The moral of this story is that for anyone in business – even hit men – get at least half your money up front!!!!"
"Christopher Abbott is not only quite talented but very friendly. And those deep set eyes are fine by me."
"Morality tale, dark, intriguing, the ambiguity of human nature/needs. Very appropriate for our crazy trying times. The motel makes a statement about evil behavior. Interesting that so many shots were of profiles."
"An entertaining and tense film. I liked it a lot."
"Production was good and so was the acting. Plot had sone irritating holes and some unbalance: a pushed plot and others not credible."
"Great character development!"
"Nice and creepy from the get go."
If you'd like to know more about the film...